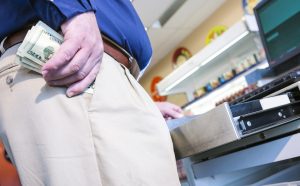 EMPLOYEE THEFT:  America's Dirty Little Secret
According to the United States Chamber of Commerce, 76% of employees steal from their workplace and most do it repeatedly. Security Magazine reported employee theft statistics showing an upward trend.
How big of a problem is employee theft and fraud? How much does employee theft and fraud cost U.S. businesses each year? Estimates range from $20 Billion to $50 Billion, making it one of the most costly and widespread challenges facing today's business world.
What's more, the U.S. Chamber of Commerce estimates that 30% of business failures are directly related to employee theft.
Safeguarding your business with a camera and security system is a proven way to detect and prevent theft related losses. We are your partner in security!  Let us help you be proactive in having systems in place to minimize employee theft.
" The Number 1 Rule is to accept the fact that employee theft is probably happening to you. "
You work hard to make your business succeed. It's your livelihood, so it's critical to protect it against internal and external crime, fire and environmental hazards.
Whether your business is small or large, a neighborhood shop or a company with multiple locations,Oregon Alarm can provide solutions tailored to fit your unique needs. Our experts will meet with you, get to know your business, assess your security goals and requirements, and implement a security system that is reliable, cost-effective and convenient.
With Oregon Alarm, you can depend on quality equipment from some of the leading manufacturers in the industry, expert installation, highly responsive customer service, and award wining monitoring service. And should your business grow, or you need to address new
https://oregonalarm.com/wp-content/uploads/2019/09/oregon-alarm-logo-600-png.png
0
0
Oregon Alarm
https://oregonalarm.com/wp-content/uploads/2019/09/oregon-alarm-logo-600-png.png
Oregon Alarm
2017-11-14 10:49:58
2017-11-14 11:14:14
Security Surveillance System to Prevent Employee Theft